Hernon adhesives are now dispensed through ultra-efficient Fastenal vending machines to improve inventory management.

Sanford, FL., February 11, 2016 — Hernon Manufacturing, Inc., the innovator in adhesives, sealants and dispensing and curing equipment, is pleased to announce that Hernon adhesives are now being dispensed through ultra-efficient Fastenal vending machines to improve inventory management.

Details
Hernon Manufacturing is pleased to announce a first-of-its-kind Hernon product vending machine used by Fastenal (Arecibo, Puerto Rico). Fastenal uses these vending machines for inventory management tracking on some of their most heavily used brands and to reduce waste while minimizing their environmental footprint. The same systems that have been in place for decades to track product use and ensure timely restock in traditional vending machines are now used internally by Fastenal to ensure their team always has the Hernon adhesives they need to get the job done right. Hernon Manufacturing is pleased to be a part of this effort and applauds Fastenal for their ingenuity and devotion to efficiency.
New Awards and Honors!
On January 29, Hernon Manufacturing received the news that it was selected as a TOP 10 finalist in the Bright House Networks Regional Business Awards. As part of their community participation, Bright House Networks teams up with local chambers of commerce to recognize outstanding companies and their success. The 1st, 2nd, and 3rd place winners will be announced at the Regional Business Awards Gala at the Hilton Orlando Bonnet Creek on March 11, 2016.
HERNON Manufacturing, Inc. has been committed to delivering world class adhesive, sealant, and impregnation solutions along with precision dispensing systems for nearly four decades. A long-time member of Central Florida's industrial manufacturing community, HERNON offers strong brands and technologies, all made in the United States, for a diverse range of industries including: Energy/Power Generation, Medical, Electronics, Electrical, LED, Automotive, Appliances, Sporting Goods, Ammunition, Communications, Aerospace, Aviation, High Tech Audio, Defense, Fire Suppression, Transportation, and Marine.
In addition to custom and standard dispensing and curing equipment, HERNON Manufacturing produces and distributes an extensive line of sealants for military and commercial use. HERNON produces several dozen Mil-Spec qualified sealants and is an ISO-9001: 2008 registered company.
Manufacturing Leadership Award winner! – February 2016

Top 10 Bright House Networks Regional Business Awards – February 2016

CEO of the Year – October 2015

Seminole County Industry Recognition Honoree – August 2015

Sanford Industry Recognition Honoree – July 2015

President's "E" Award – June 2015

Top 10 Manufacturing Companies In Central Florida – April 2015

Manufacturing Leadership Award – March 2015

Manufacturer of the Year Finalist – December 2014

Excellent Service Award – October 2014

Orlando Business Journal Fast 50 – June 2014
Visit http://www.hernon.com or contact 407-322-4000 for more information.
The full list of Hernon Awards and Honors can be seen by clicking here: Awards and Honors PDF
​
---
Providing Total Solutions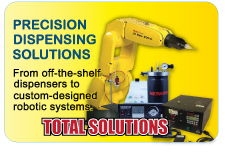 From our vast array of adhesives and sealants to customized and/or standard dispensing equipment to state-of-the-art UV LED curing systems, HERNON is YOUR Total Solutions expert.

How Can We Help You?
We're the only custom adhesive company that makes our engineers directly available to our customers. We can give you expert recommendations for your application — including which product is best, how to save money and how to eliminate waste. Speak to an Engineer Today!
Sales
sales@hernon.com
Tel: 1-800-527-0004
Customer Service
customerservice@hernon.com
Tel: 1-800-527-0004
Visit us on the web:
www.hernon.com
Connect with us: