The unique properties of Ultrabond 740
make it perfect for local artist.

Sanford, FL., August 10, 2015 — Hernon Manufacturing, Inc., the innovator in adhesives, sealants and dispensing and curing equipment, is proud to support local artists with unique adhesive solutions.

Details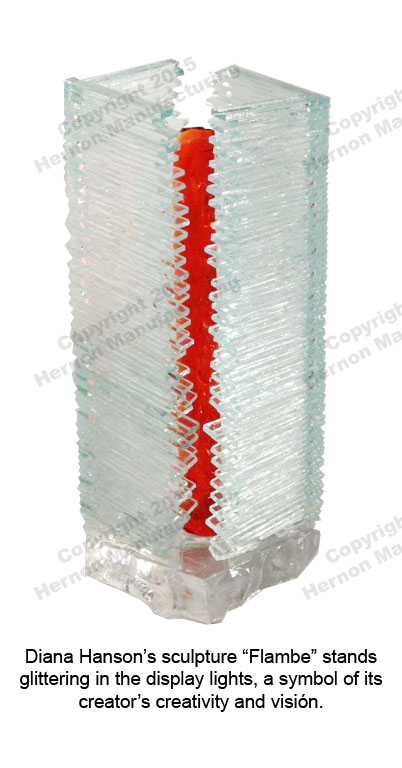 Hernon Manufacturing is pleased to reveal a unique use of our specialized adhesives and UV curing systems. Local artist Diana Hanson, renowned for her ability to show the endless possibilities of glass in each accomplished sculpture, has chosen Hernon's Ultrabond® 740 as the adhesive used to bond each piece of glass in place as she builds her masterpieces. Diana Hanson started with a love of Dalle de Verre slab glass and taught herself how to work with this classic material in non-traditional ways, incorporating new techniques as she encountered local practices during her travels in the U.S., Canada, Mexico, the Caribbean Islands, Europe and Asia. "Hernon's Ultrabond® 740 is the perfect adhesive for my work with glass due to its UV curing properties and strong permanent bond," Diana Hanson said, "and the fact that it bonds clear and is undetectable in the finished work allows me to focus on capturing light in the best way and making the most of the unique refractions displayed by each piece."

Ultrabond® 740 offers several advantages over traditional adhesives. It is a UV bonding adhesive which means that after the adhesive is applied the substrate can still be manipulated until a UV light is applied that instantly hardens the glue. This bonding method also creates a stronger connection than alternative methods.

HERNON Manufacturing, Inc. has been committed to delivering world class adhesive, sealant, and impregnation solutions along with precision dispensing systems for nearly four decades. A long-time member of Central Florida's industrial manufacturing community, HERNON offers strong brands and technologies, all made in the United States, for a diverse range of industries including: Energy/Power Generation, Medical, Electronics, Electrical, LED, Automotive, Appliances, Sporting Goods, Ammunition, Communications, Aerospace, Aviation, High Tech Audio, Defense, Fire Suppression, Transportation, and Marine.

In addition to custom and standard dispensing and curing equipment, HERNON Manufacturing produces and distributes an extensive line of sealants for military and commercial use. HERNON produces several dozen Mil-Spec qualified sealants and is an ISO-9001: 2008 registered company.
OBJ List of Top Manufacturing Companies – April 2015

Manufacturing Leadership Award – March 2015

Manufacturer of the Year Finalist – December 2014

Excellent Service Award – October 2014

Orlando Business Journal Fast 50 – June 2014

Patent for Bullet Tip Identification Process – January 2014

State of Florida Exporter of the Year – May 2013

William C. Schwartz Industry Innovation Award – June 2003

Southeastern US District & State of Florida Exporter of the Year – March 2013

Florida Top Companies to Watch – August 2012

Exporter of the Year – February 2012
Visit http://www.hernon.com or contact 407-322-4000 for more information.
Diana Hanson's other works can be seen at http://ow.ly/V1eRh and the artist can be reached for question or comment at dhansonglass@gmail.com.
​
---
Providing Total Solutions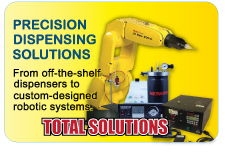 From our vast array of adhesives and sealants to customized and/or standard dispensing equipment to state-of-the-art UV LED curing systems, HERNON is YOUR Total Solutions expert.

How Can We Help You?
We're the only custom adhesive company that makes our engineers directly available to our customers. We can give you expert recommendations for your application — including which product is best, how to save money and how to eliminate waste. Speak to an Engineer Today!
Sales
sales@hernon.com
Tel: 1-800-527-0004
Customer Service
customerservice@hernon.com
Tel: 1-800-527-0004
Visit us on the web:
www.hernon.com
Connect with us: